Daily Greens™ Helps Boost Energy, Burn Fat, And Supports A Healthy Gut

Dear Friend,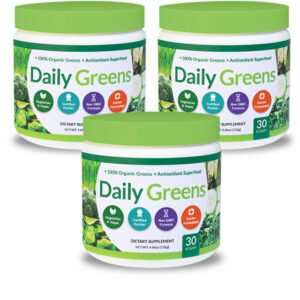 Thanking you for ordering an extra 3-pack of Healthy Liver Support. Please do NOT hit your back button.
Because you said yes, I thought you might also like to try our green drink and save 65% off the normal price.
Daily Greens™ combines 34 organic superfoods and 11 herbs and extracts to create the world's best tasting, liver-friendly health beverage. It alkalizes your body with wholesome nutrients while helping flush dangerous toxins from your system.
Daily Greens™ is a powerful combination of vegetables, herbs, prebiotics, probiotics, adaptogens, and digestive enzymes in a delicious formula you can drink anytime in a smoothie, nutritional shake, or in plain water.
The normal price for Daily Greens™ is $59.95 per tub. But if you try it through this special offer page, I'll send you two extra tubs for free. That's a total of three tubs for just $59.95, and of course, we'll cover the extra shipping and handling.
To take advantage of this deal, click the link below. You are protected by our 60 day money back guarantee. If you don't love Daily Greens™ for any reason whatsoever, just return it for a full refund.

---
Scientific References:
5 Reasons To Drink Green Juice If You Have A Leaky Gut
https://www.amymyersmd.com/2018/08/green-juice-for-leaky-gut/
The 19 Best Prebiotic Foods You Should Eat
https://www.healthline.com/nutrition/19-best-prebiotic-foods#section19
Fiber and Prebiotics: Mechanisms and Health Benefits
https://www.ncbi.nlm.nih.gov/pmc/articles/PMC3705355/
Nutrition for Improved Liver Function | The Detox Food Plan
www.ifm.org/news-insights/detox-food-plan/
Dietary prebiotics improve sleep, buffer impacts of stress
https://www.sciencedaily.com/releases/2017/02/170225102123.htm
The effects of a short program of detoxification in disease-free individuals
https://www.ncbi.nlm.nih.gov/pubmed/10895516
Health Benefits of Fruits and Vegetables
https://www.ncbi.nlm.nih.gov/pmc/articles/PMC3649719/
Tiny Microgreens Packed With Nutrients
https://www.webmd.com/diet/news/20120831/tiny-microgreens-packed-nutrients#1