One-Time-Offer: Add An Extra Three Bottles For Just $59.95 More
Dear Friend,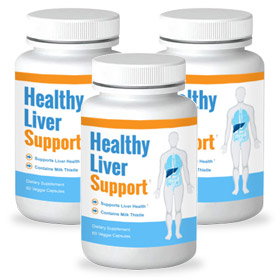 Thank you so much for getting Healthy Liver Support, the number one supplement for people who have NASH, NAFLD, or other liver conditions.
Please do NOT hit your back button.
Your order was received and is being processed. You will receive an email receipt shortly and a shipping confirmation when your package is sent.
Before we finish up, I'd like to make you a special one-time-offer, good ONLY for our existing customers.
Because the demand for Healthy Liver Support is HIGH, and since we often sell out of this formulation, I recommend upgrading your order and adding an additional three-pack at the lowest price we have ever offered, under $20 per bottle.
That's 66% off the retail price for a proven supplement that contains the most powerful herbs and ingredients shown to help with fatty liver, NASH, NAFLD, and other conditions.
To take advantage of this deal, click the link below to add an additional three bottles to your order with no additional shipping charge. You are protected by our 60 day money back guarantee. If you don't love Healthy Liver Support for any reason whatsoever, just return it for a full refund.

Scientific References:
What Does the Liver Do?
https://www.chp.edu/our-services/transplant/liver/education/organs/liver-functions
Skin manifestations of liver diseases
https://www.medigraphic.com/pdfs/hepato/ah-2007/ah073k.pdf
When the liver gets fatty
https://www.health.harvard.edu/diseases-and-conditions/when-the-liver-gets-fatty
The Liver and Cholesterol: What You Should Know
https://www.healthline.com/health/liver-cholesterol
Dandelion And Liver Health
https://www.healthline.com/nutrition/dandelion-benefits#TOC_TITLE_HDR_16
Information on Detoxification
issels.com/publication-library/information-on-detoxification/
Liver immunology and its role in inflammation and homeostasis
https://www.ncbi.nlm.nih.gov/pmc/articles/PMC4856809/
Turmeric and Liver Health
https://www.medicalnewstoday.com/articles/318405#benefits
Nonalcoholic fatty liver disease
https://www.mayoclinic.org/diseases-conditions/nonalcoholic-fatty-liver-disease/symptoms-causes/syc-20354567
Effect of silymarin on biochemical indicators in patients with liver disease
https://www.ncbi.nlm.nih.gov/pmc/articles/PMC5526770/
What You Should Know Before Taking Liver Supplements
https://www.healthline.com/health/liver-supplement