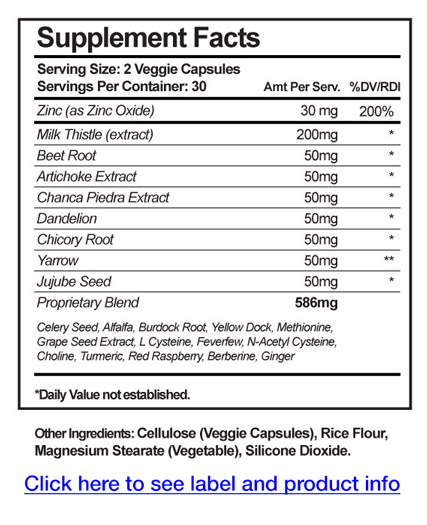 Milk Thistle – A powerful antioxidant that supports healthy inflammatory response and stimulates liver cell production.†



Zinc – Shown to support and improve neurological liver function.†



Beet Root – Helps the body cleanse heavy metals and waste with glutathione, which is essential for detoxification.†



Artichoke – Reduces free radicals and prevents glutathione depletion.†



Dandelion – Digestive helper and skin toner, also supports urinary tract health.†



Burdock Root – Rich in iron, calcium, and vitamin C. Stimulates bile flow and naturally protects the liver.†



N-Acetyl Cysteine (NAC) – Enhances production of glutathione in the liver and helps rebuild existing damage.†



Turmeric – Powerful benefits for those wanting to promote healthy liver function, turmeric can help with weight loss and lowering liver enzymes.†



Choline – Supports liver function and healing.†

---
No, our supplement is available in the US and Canada without a prescription.
A proprietary blend of ingredients that have been shown to relieve the symptoms of NASH, NAFLD, and other common liver issues, including Milk Thistle, Zinc, Beet Root, Artichoke, Dandelion, Burdock Root, N-Acetyl Cysteine (NAC), Turmeric, and Choline.
If you choose our automatic shipping option, Clickbank will bill you monthly, and your package will be sent out 2 – 3 days after that. You are always in complete control and can cancel or change your subscription anytime by sending us an email.
The product is manufactured in the United States, in a cGMP certified facility, registered with the FDA.
Healthy Liver Support contains no gluten, sugar, salt, dairy, wheat, soy, preservatives, artificial colors, or flavors. It's is a natural formulation of herbs and vitamins.
The supplement was specifically created to help support healthy function for people with fatty liver, NAFLD, and NASH, as well as many other common liver conditions.
Healthy Liver Support is 100% guaranteed for a full 60 days. Just return the unused portion, even the empty bottle, and we will give you a full refund.
Orders are sent out by UPS within 48 hours, except for holidays and weekends. Shipping time is usually about a week to the US, and 10 days to Canada since the package has to clear Customs.
The ingredients are generally considered safe. However, you should consult your doctor before starting any supplement regimine. Healthy Liver Support contains Milk Thistle, so you may experience an allergic reaction if you are sensitive to Ragweed. In rare cases, it may also cause headaches or nausea. If that happens, simply stop taking the product and return it for a full refund.
We recently added many new countries, so click the order form and see if your location is listed. Free shipping is limited to US and Canada addresses only. Please join our newsletter and we will send you details when new locations are added.